A high-altitude journey through the images of photographers that become a symbol of the union between man and mountain
The ancient and the contemporary come together in the exhibition curated by Glorianda Cipolla and Walter Guadagnini, The Awakening of the Sublime. The exhibition is composed of graphic art and photographs of Mont Blanc.
Inside the structure's picturesque spaces it's possible to admire a selection of reproductions of graphics of the prestigious Leo Garin Collection, dedicated to the "White Giant" and dating back to past centuries, in a dialogue with the works of three important protagonists of contemporary Italian photography and the art of one of the leading exponents of the famous Magnum Agency: Olivo Barbieri, Francesco Jodice and Giovanni Ozzola.
Each of these artists, in recent years, has looked at the same subject with different intentions and results, enriching with new visions the collective imagination stemming from the encounter with these landscapes.
In the series "Alps - Geographies and People" (2013-2014) by Olivo Barbieri (Carpi, 1954), the point of view of the climbers becomes the filter through which to establish a relationship with the peaks and their geographies, accepting their mirages and hallucinations.
With "Mont Blanc, Just things" (2014), Francesco Jodice (Naples, 1967) recalls five air disasters that occurred on Mont Blanc, because of which the mountain has become a part of the history of certain objects, changing it radically. Added to this series is an extraordinary shot realized for this occasion as a tribute to Skyway Monte Bianco.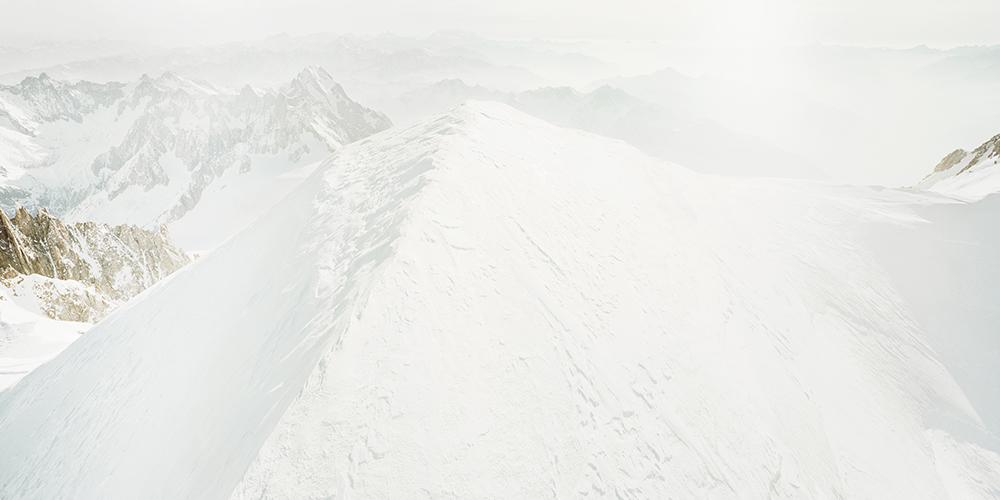 Mont Blanc, Just things (2014) - Francesco Jodice
The images of "Bianco-Untitled" (2016) by Giovanni Ozzola (Florence, 1982) analyse the multiplicity of the visible world, focusing on apparently neglectable details capable of revealing a reality that's always changing and, at the same time, always true to itself.
A THIRD ARTISTIC LANGUAGE JOINS UP WITH PHOTOGRAPHY AND GRAPHIC ART
Not just photography and graphic art, but also a "wall drawing," realised by Hamish Fulton (London, 1946), recognised internationally as one of the most important contemporary artists.
The work is the transposition through mural painting of the climbing of Mont Blanc by the 'walking artist', as he defines himself, and will remain permanently to welcome visitors at the station entrance.
The different ways with which artists have looked at and continue to look at Mont Blanc further amplify the extension of our vision of these places, still, and likely forever, capable of arousing the same fascination.
EXHIBITION "THE REAWAKENING OF THE SUBLIME": WHERE AND WHEN
The exhibition can be visited every day at the Pavillon station from 8 a.m. to 4 p.m. Access is free.