It's imposing, extremely tall, and admired by all for its beauty. We're talking about the Mont Blanc massif and a history that's been in the making for millions of years
The Mont Blanc massif is located between the territories of Italy and France.
In the Valle d'Aosta region of Italy it dominates the Veny and Ferret valleys. In France, in the Savoy region, it encompasses the valley of Chamonix, all the way to the Canton Vallese in Switzerland, near Martigny.

4,808.72 metres is the latest official measurement of Mont Blanc, registered in 2017.
The mountain chain of which it's a part is 40 km long, from 8 to 15 km wide, and occupies a surface area of roughly 645 square kilometres.
Mont Blanc's elevation is 4,808.72 meters.
The French and Swiss sides belong to the hydrographical basin of the Rhone River, while the Italian side is in the hydrographical basin of the Po.
The geological evolution of Mont Blanc is composed of 3 great periods:
between 500 to 250 million years ago, during Hercynian orogeny, the crystalline core was formed, which is the base of the current Mont Blanc;

between 250 and 60 million years ago the mountain was still sunken at a depth of dozens of meters beneath the sea;

30 million years ago, during the Tertiary Period, following the push of the African and Asian tectonic plates the mountain chain of the Alps was formed, with Mont Blanc's emergence from the ocean along with 24 other peaks over 4,000 meters tall.
THE MASSIF AND ITS ROCKS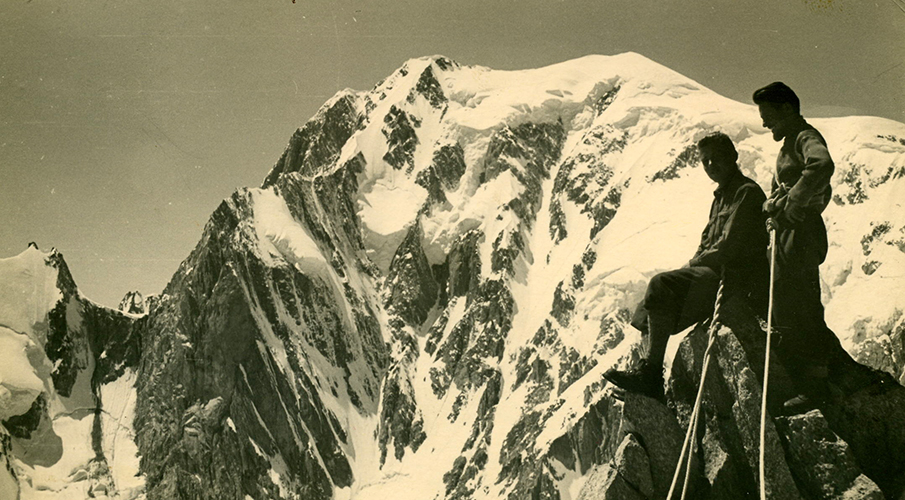 summit of the tour ronde
The Mont Blanc massif is composed of a granitic core around which can be found metamorphic rocks such as gneiss, mica schists and limestone schists.
The granite is recognisable by the gargoyle-like shape of its crests and the sharp forms of its peaks. This rock is quite hard, but is subject to the effects of erosion provoked by glaciers.
Around the granite, in certain place, we find metamorphic rocks: in those parts, protected by a shell of gneiss, the forms are more rounded and continuous. It is here that the typical paths to the summit have been traced.
At the base of the granitic and metamorphic rocks, on the other hand, we find undifferentiated sedimentary rocks.